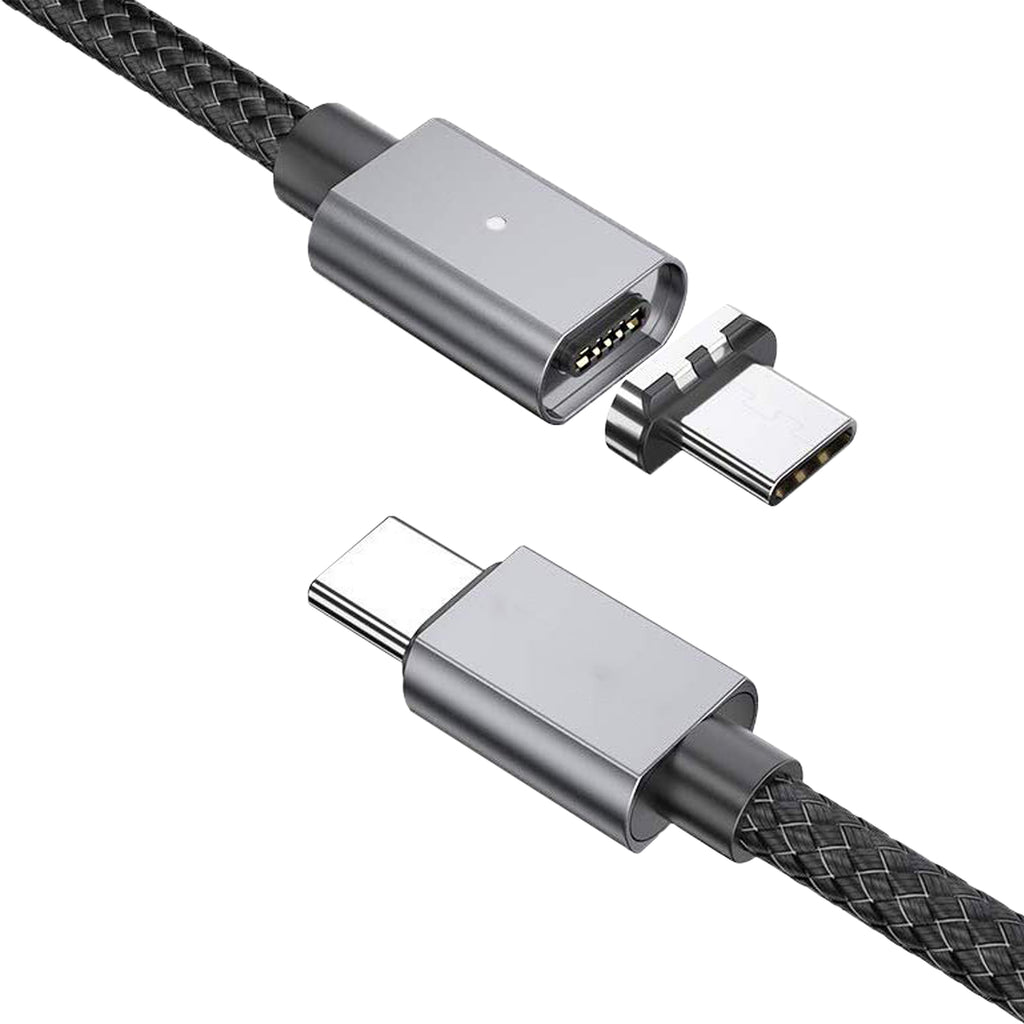 NinjaDrive POWER 100W Magnetic Charging Cable
Why NinjaDrive Magnetic Charginng Cable?
STAY SAFE & DRIVE SAFE - With this magnetic cable, your laptop is safe from dangerous falling 
if somebody tripping over the power cable. Our magnetic cable can automatically attach & detach ensure you can focus on driving, which is the best solution for safe driving.

FAST CHARGING– With the Integration of E-Mark Chip, it supports power charging 100W and automatically (5A/20V) current output. In reliable fast voltage protection and power input, no more overcharging and short circuit problems.


How to use Magnetic Charging Cable?


∙Plug the magnetic connector into your device.

∙Plug the USB-C connector on the other end of the charging cable into a USB-C transformer with a PD fast charge function

∙Holding the charging cable a little closer to it will attract itself and start charging


How does NinjaDrive improve charging efficiency?

Old-generation magnetic head uses POGO PIN connection method
This method uses several spring-loaded probes to contact the charging terminal.

 


Spring-loaded probes can cause fatigue fatigue.
Therefore, the wear and tear of repeated use may cause poor contact and affect charging efficiency.
In addition, the contact area of ​​the probe is only a small point.
Which will also affect the charging efficiency of the magnetic connection
Ninja Drive uses a new generation of METAL CONTACT design.
Our charging end uses a large metal sheet and is designed to easily cover the entire magnetic head connection. 
First, there will be no fatigue problems. 
Second, it also solves the problem that the contact area affects the charging efficiency.


Description

*This product is a USB-C to USB-C charging cable *

Length : 5ft / 1.5m 
Current and voltage:5A / 20V



note:
To reach 100W charging efficiency
1. The charging cable needs to support PD fast charging
2. The transformer needs to support PD fast charging and reach a charging power of 100W
3. The charging device needs to support PD fast charging and can accept a charging power of 100W
All the above three points need to be met to achieve ultra-high-speed charging power

*100W is the maximum power of our cable.
If your transformer and device can only support charging speeds below 100W, 
our charging cable is also applicable.


∙This cable has charging indicator, it will light up when charging

∙The wire uses a strong weaving process and passed the 5000+ bending test. 
 Durable and sturdy
∙The plug is made of aluminum alloy and passed the 10,000 + plug test to avoid easy failure and damage