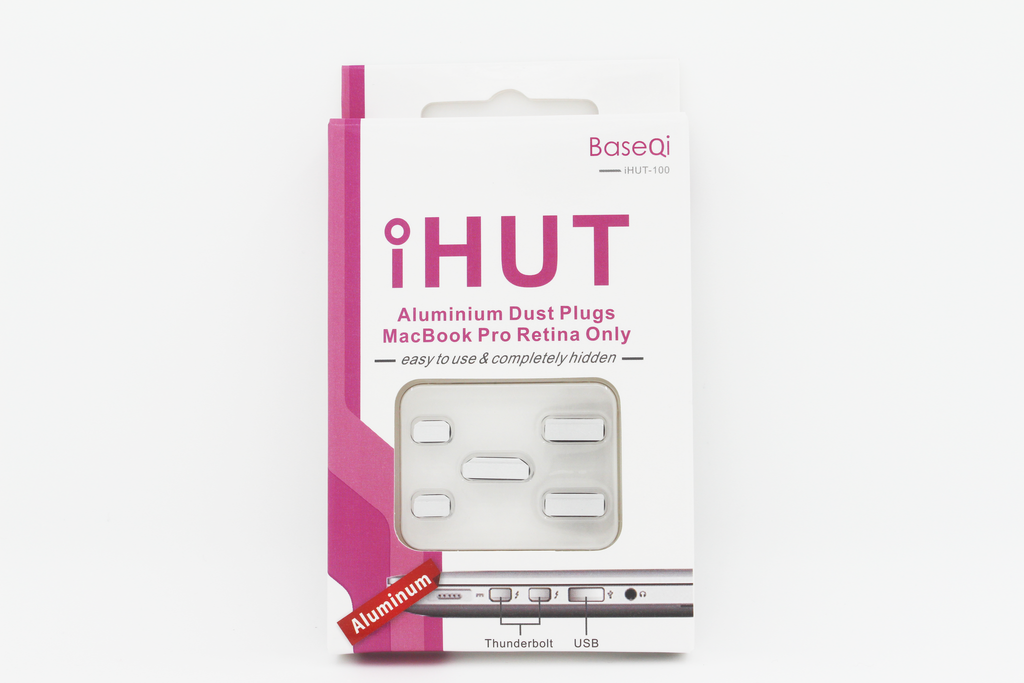 iHUT - Aluminum Dust Plugs for Retina MacBook Pros
** Shipping from TAIWAN **
*** For a limited time only, we are offering FREE international shipping for iHUT - aluminum dust plugs ***
Looking for a best Macbook "dust covers" in the world?
iHUT is a set of 5 aluminum dust plugs designed to cover up your HDMI, USB & Thunderbolt ports. These aluminum dust plugs ONLY works on Retina Macbook Pros. It is compatible with both the 13" or 15" Retina Macbook Pro model. If you have a non-retina Macbook, these aluminum dust plugs will NOT work for you.
The "HUT" in iHUT got its name from the HDMI, USD & Thunderbolt ports. iHUT will serve as dust covers for your Retina Macbook Pro. They will fit perfectly into your Macbook without any protrusions. They are designed to sit 100% flush with the edge of your Retina Macbook Pro.
iHUT is not an ordinary dust cover, it's a piece of art.
When we designed iHUT, we wanted to make sure we create the best dust plugs in the world. They are designed to fit into your Retina Macbook Pro seamlessly. Different from ordinary plastic dust plugs, iHUT is made from the highest grade of aluminum and has the smoothest finish. It will fill up all the ugly holes on your Macbook!
A truly unique product with world class patent.
Since iHUT hides 100% within your HDMI, USB & Thunderbolt ports, how do you take them out? No worries, iHUT holds a special design patent. Similar to our Ninja Stealth Drive, iHUT can be taken out with your fingernails. Place your fingernail on the special groove within the plugs, then pull out! 

iHUT aluminum dust plugs are an original and unique product, you will NOT be able to find it anywhere else in the world.
Remember to place an order for iHUT aluminum dust plugs today!
Shipping Policy
All products will be shipped by registered airmail.  We will provide the tracking number once the product gets shipped out.
All orders will be shipped within 24 hours (Usually the same day) once the payment is received. All items will be packed safely using bubble wrap envelopes. We will send a shipping confirmation and tracking number by email once your product is shipped out!