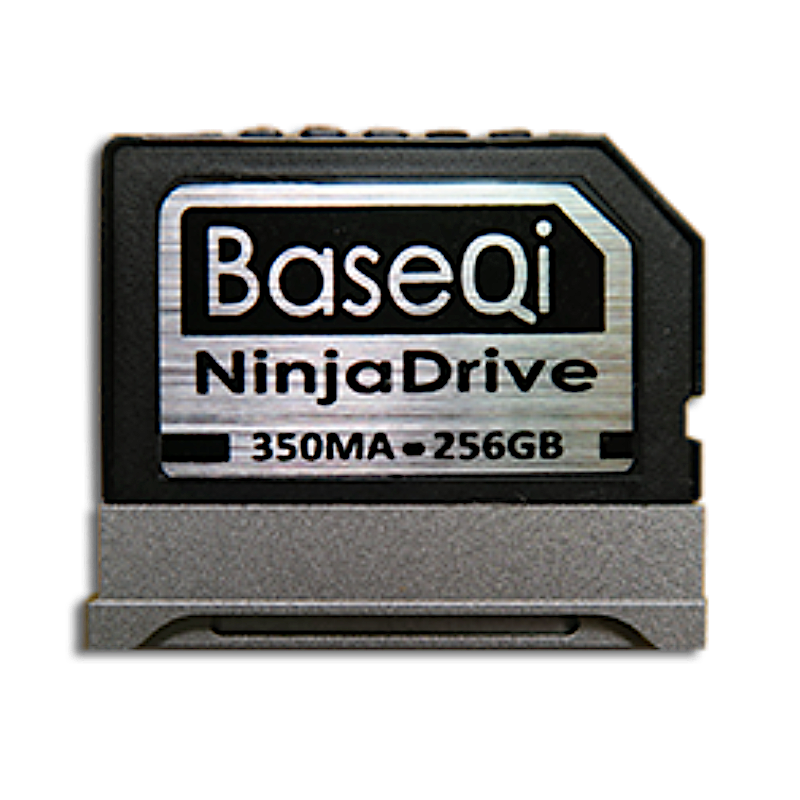 BaseQi NinjaDrive Aluminum 256GB Storage Expansion Card for Microsoft Surface Book / Surface Book 2 / Surface Book 3 13.5" & 15"
What is a NinjaDrive 256GB?
It's an aluminum SD card with 256GB of extra disk space that fits 100% into your MicroSoft Surface Book with NO awkward protrusions.
You can insert a NinjaDrive in your Surface Book or Surface Book 2 and gain up to  256GB of extra storage space instantly. It's that easy!
Storage spaces are never enough, and it is still easy to max out your storage space. That's why we invented NinjaDrive as your second portable hard drive.
Your flawless second hard drive
Provide more disk space - Feel like you never have enough disk space on Surface Book ? NinjaDrive is designed to become that extra and permanent disk space for your Surface Book. 


The exterior is made out of polished aluminum - This is the exact same material and color as your Surface Book. NinjaDrive is designed to camouflage and blend in perfectly with your Surface Book.



It is almost physically 

indestructible - NinjaDrive is a very safe secondary drive. We suggest users to back up all of their important files on there. If your Surface Book ever breaks, you can remove the NinjaDrive anytime and have access to these important files!


Sits 100% flush and hidden within your Surface Book -  We are the only company in the entire world who manufacture SD cards that hides completely into your SD drive slot. Our NinjaDrive fits perfectly into your Surface Book with ZERO protrusions. Who wants a SD card that protrudes out from your computer anyway?


Easy to physically pull out - This NinjaDrive sits 100% into your Surface Book, so how do you take it out? We designed a special ditch on the edge of the NinjaDrive, you can pull it out easily with your fingernails. We have a patent to this design so that means you CANNOT find a similar product anywhere else. 
      6. Read/Write Speeds - Max Read: 99MB/s, Max Write : 90MB/s
How do I use it?
Insert your NinjaDrive all the way into your Surface Book or Surface Book 2 SD card slot until it is 100% flush with the side of your MacBook.


A new disk icon will show up on your windows desktop and you can use this new disk as a secondary drive. It has 256GB of storage space, simply drag and drop files in there. 



Congratulations! You now have a secondary disk space. You may place your photos, movies and other important files into this new drive!
 At BaseQi Designs, our mission is to create unbelievable products at cutting-edge prices! 
Shipping Policy
All products will be shipped by Express.  We will provide the tracking number once the product gets shipped out.
All orders will be shipped within 48 hours (Usually the same day) once the payment is received. All items will be packed safely using bubble wrap envelopes. We will send a shipping confirmation and tracking number by email once your product is shipped out!